I LOVE Halloween! It's my favourite holiday and a brilliant time to get crafty! Over the next couple of weeks I'm going to find the best Halloween tutorials around so that you can throw the best party for you and your mates.
So what's the first thing every good party needs...a great invite! I've done my best googling to fine some fab Halloween invites which will get everyone talking about your party before they even turn up
This bat invite is a cute and simple tutorial so it's a great one if you are in a rush or want to make something with the kids
Or another option is this bat bow - just tie a knot in a piece of ribbon and glue in a couple of googly eyes for the sweetest creature creation.
If you are a fan of origami then check out this dinosaur card which could be easily adopted into a Halloween monster
I love the next one! This Ouija board (not how I thought that was spelled) invite is simple but really effective.
Did you love those books with flaps when you were a kid - well this invite will take you back to those fun times, but maybe don't show it to your kids when you've finished...
This take away is great if you want to send a little treat as well, you could even make your own Halloween stamp, rather than buying on
Now for those of you which take Halloween as seriously as I do - one of these next tutorials is a must have for you party! Your guest will not know what's hit them when they come through the letter box.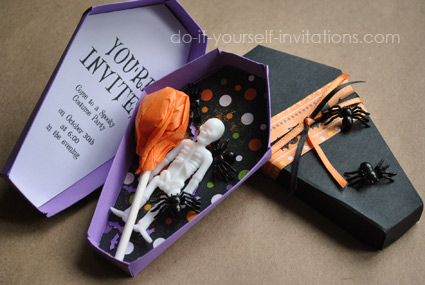 I bet even if you weren't planning a party you are now totally tempted and if any of you do have a party them please share your Halloween creations on www.facebook.com/craftalavista as we love to see what you get up to.
I'll be back xx